How to create social media content calender
A social media calendar is a lifesaver for busy social marketers.
Creating and posting content on the fly is tricky. You're more prone to typos, tone problems, and other mistakes. Spending a little time upfront creating a social media calendar is much more efficient. That way, you've got dedicated time to create, tweak, proofread, and schedule posts.
Social media content calendars don't just make your workday less stressful. They also make it easy to plan an effective content mix and allow you to time your posts to reach the largest possible audience.
Keep reading for your complete guide to making a practical (and powerful) social media content calendar. We've even included some free social media calendar templates to get you started!
A social media calendar is an overview of your upcoming social media posts, organized by date. Social marketers use content calendars to plan posts, manage campaigns, and review ongoing strategies.
Social media calendars can take many forms. Yours may be a spreadsheet, Google calendars or interactive dashboard (if you're using a social media management tool).
A social media calendar usually includes some combination of these elements for each post:
The date and time it will go live
The social network and account where it will be published
Copy and creative assets (i.e., photos or videos) required
Links and tags to include
Follow the steps below to create a lean and efficient social media content plan.
1. Audit your social networks and content
Before building your social media posting calendar, you need a clear picture of your existing social media accounts.
You can use Hootsuite social media audit template to create a precise, up-to-date record of:
Impostor accounts and outdated profiles
Account security and passwords
Goals and KPIs for each branded account by platform
Your target audience, their demographics and personas
Who's accountable for what on your team
Your most successful posts, campaigns and tactics
Gaps, underwhelming results, and opportunities for improvement
Key metrics for measuring future success on each platform
As part of your audit, note how often you're currently posting on each social network. Look at your analytics for any clues about how your posting frequency or time of posting impacts engagement and conversions.
2. Choose your social channels and content mix
Deciding what kinds of content to post is a key part of your social media strategy — and an important step to building a social media calendar. There are a couple of standard marketing strategies for content mix that you can use to get started:
The social media rule of thirds
One-third of your posts promote your business or drive conversions.
One-third of your posts share curated content from industry thought leaders.
One-third of your social posts involve personal interaction with your followers.
The 80-20 rule
80 percent of your posts inform, educate, or entertain
20 percent of your posts promote your business or drive conversions
You'll also need to determine which social channels to use for which types of content. Some may not be necessary at all.
Don't forget to schedule user-generated content and curated content. That way, you don't get overwhelmed creating everything yourself.
3. Decide what your social media calendar should include
Your social media calendar won't look exactly like anyone else's. For example, a small business owner doing their own social posts will likely have a much simpler calendar than a large brand with a full social team.
Map out the information and functions that are most important to you. That way, you can get the most out of your social calendar.
Start with basic details, like:
Platform
Date
Time (and time zone)
Copy
Visuals (e.g., photo, video, illustration, infographic, gif, etc.)
Link to assets
Link to published post, including any tracking info (like UTM parameters)
You may also want to add more advanced info, like:
Platform-specific format (feed post, Story, Reel, poll, live stream, ad, shoppable post, etc.)
The associated vertical or campaign (product launch, contest, etc.)
Geo-targeting (global, North America, Europe, etc.)
Paid or organic? (If paid, then additional budget details might be helpful)
Has it been approved?
If you're just getting started, a simple spreadsheet works well. If you're looking for a more powerful solution, check out our top calendar tools at the end of this post.
4. Invite your team to review, and use their feedback to improve
An effective social calendar makes sense to everyone on your marketing team. Ask for feedback and ideas from stakeholders and your team to make sure it serves everyone's needs.
As you start to work with your calendar, evaluate how it feels to you, and ask the team to provide ongoing feedback. For example, if it feels onerous and finicky, maybe you want to dial back some of the detail. If it's not detailed enough, you may need to add a few columns.
Your calendar will probably continue to evolve as your business does — and that's okay!
1. Get organized and save time
Social media content creation and posting take time and attention every single day. A social media calendar lets you plan ahead, batch your work, avoid multitasking, and note down all your content ideas for later.
Social media planning calendar tools even allow you to schedule social media posts ahead of time. That means you can share content every day without logging into all your social platforms every hour on the hour.
The average internet user regularly uses 7.5 social media platforms. For social media managers, the number can be much higher. When you're managing multiple accounts, getting organized is essential.
Planning your content frees up time for more strategic work, which is often more fun anyway.
2. Make it easier to post consistently
There is no hard and fast rule about how often you should post on social media. That said, there are some generally accepted best practices to use as a baseline.
The most important rule, no matter how often you decide to post, is to post on a consistent schedule.
Sticking to a regular schedule is important, so your followers and fans know what to expect. It's also a good way to make clever use of weekly hashtags like #MondayMotivation. (I prefer #MonsteraMonday, but that might not be for everyone.)
For a real-world example, take a look at the weekly content calendar for The Winnipeg Free Press. Sure, this isn't a social media content calendar, but it is a weekly plan anchored by consistent content ideas.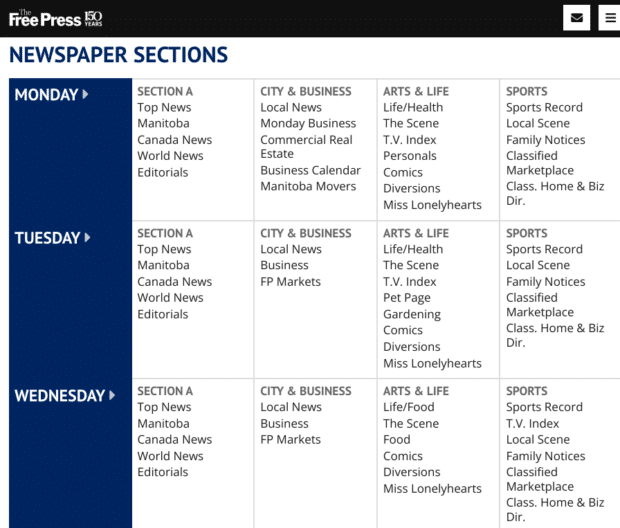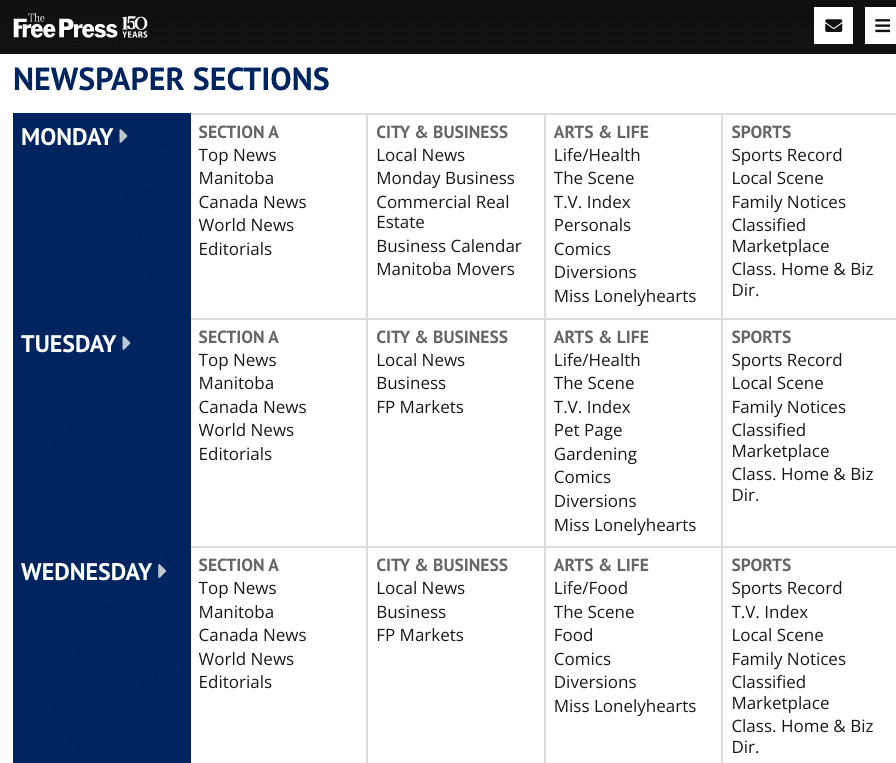 Source: Winnipeg Free Press
Content frameworks like these give you one less thing to consider as you create your posts. Scheduling posts in advance allows you to stick to a schedule while ensuring you always have quality content ready to go.
Social media calendar tools also allow you to post at the best times for your audience, even if those times don't align with your core working hours. Which leads us to…
3. You can take a real vacation
When you create content and schedule it in advance, you can actually take time off. No logging into your work accounts on Thanksgiving, late at night, or early in the morning.
For busy social media managers, creating a social media calendar is an act of self-care.
4. Reduce typos and avoid big mistakes
Planning posts ahead of time allows you to check your work and build a safety net into your workflow. Everything's easier when you're not rushing to post.
A social media calendar — especially one with an approval process — is the best way to prevent everything from minor mistakes to social media crises.
5. Make higher-quality content and cohesive campaigns
Social media production values have skyrocketed since the early days. Today, it's not unusual for a single post to have a whole social media team of creatives behind it.
Asking your team to drop everything for an emergency Instagram Reel won't win hearts or minds. It's not going to result in your best possible content or a cohesive account either.
A social media calendar helps you distribute resources and make sure your team has the breathing room to do their best work.
Following a long-term plan also allows you to craft content that supports your social media marketing goals and beyond.
6. Time your content to important holidays and events
Planning your content in a calendar forces you to keep an eye on what's happening in, well, the calendar. This means you're prepared for everything from Daylight Savings Time to the Super Bowl. (And everything else: We're looking at you, National Pizza Day.)
Want us to email you occasionally with Medianorms news?
---